Coming Soon To South Etobicoke
Westshore at Long Branch by Minto Communities
---
Lake Shore Blvd. W., Etobicoke, Ontario

Introducing Westshore at Long Branch a pre-construction development by Minto Communities, coming soon to South Etobicoke. Located at Lake Shore Blvd. W., these sophisticated condominiums are being built to the highest standards.
Whether you're looking to invest in a property that may increase in value or searching for your dream home, Westshore is sure to impress. Its location provides local charm , green space, and short streetcar or GO train ride to downtown Toronto, residents are sure to be satisfied with their new home.
With Westshore at Long Branch currently in the registration phase, now is the perfect time to get in on the ground floor and secure your piece of this exciting new development.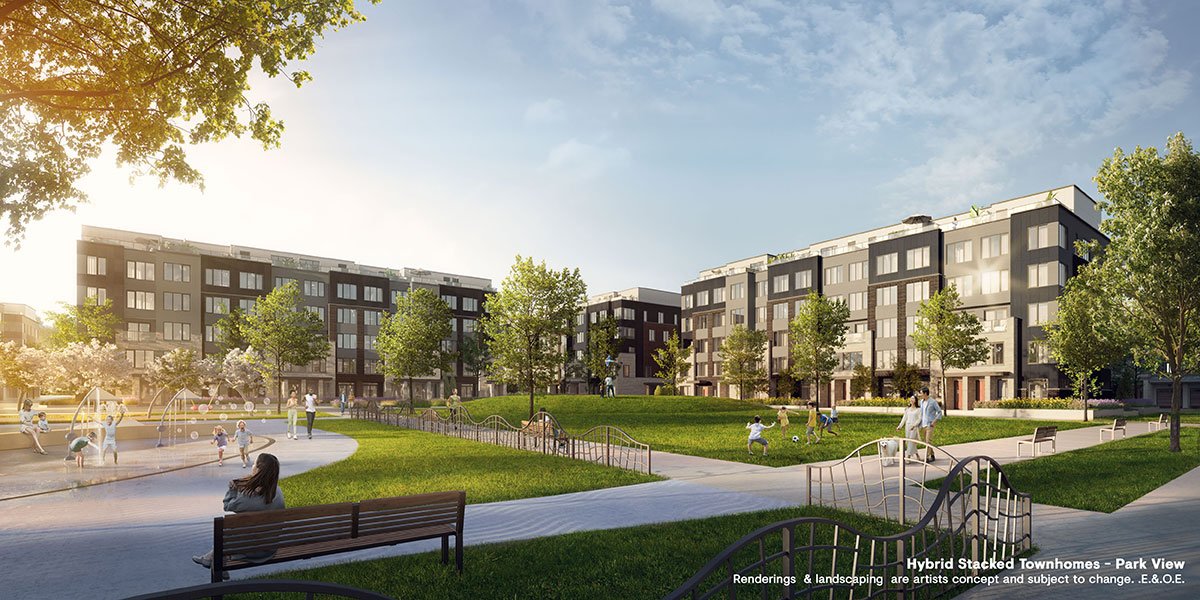 Westshore at Long Branch Features

In the transformative landscape of South Etobicoke, this beautifully designed collection of urban townhomes in South Etobicoke promises sophistication with open-concept designs. While the charm of a lakeside town envelops Long Branch, residents are just a short streetcar or GO train ride away from downtown Toronto's vibrancy.
Westshore townhomes are a blend of modern aesthetics and functional design. Choose between Stacked Townhomes, Hybrid Stacked Townhomes, and Traditional Townhomes.
The spacious 2-storey Stacked Townhomes, The Mews. These homes come in upper and ground-level units and offer a range of spacious 1-3 bedrooms, spanning from 519-1,541 square feet. From families to young professionals, these homes are tailored to fit various lifestyle needs with large, stylish spaces.
The community-centric heights multi-unit Hybrid Stacked Townhomes, offer exceptional contemporary living with a variety of product options to choose from, including The Sky Towns, 2-storey upper units and rooftop terrace; the Flats, 1-storey balcony units; and the Garden Towns, 2-storey ground-level units with garden patio. These spacious homes range from 472-1,282 square feet and feature 1-3 bedrooms, making them suitable for any lifestyle. You'll love the convenience of our underground parking garage and elevator, and the welcoming sense of community created by the common corridor.
The Residences, classic 3-storey Traditional Townhomes. Featuring 3 to 4-bedroom floorsplans that provide the ideal living space. With expansive open-concept layouts spanning from 1,646-1,709 square feet. Each home is meticulously crafted, establishing a seamless connection between indoor and outdoor living, ensuring a lifestyle that's both stylish and fulfilling.
Westshore doesn't just offer homes; it promises a sustainable future. Minto Communities is committed to a host of eco-friendly initiatives, from preserving natural habitats to optimizing water and energy consumption. Minto Communities ensures that living green is an integral part of the Westshore experience.
Living In Etobicoke

Nestled in one of Long Branch in South Etobicoke's, most walkable neighbourhoods in the city. Westshore puts you minutes away from an abundance of local gems. From unique local eateries and boutiques to serene parks and lakeshore trails, Long Branch offers an idyllic blend of convenience and charm. With both GO Transit and TTC Streetcar at your doorstep, the heart of Toronto is closer than ever.
Etobicoke seamlessly marries city excitement with suburban charm and calm. Its streets are lined with a diverse array of culinary treasures, art exhibitions, and recreational spaces.  Marie Curtis Beach and park beckon those seeking tranquility amidst the city's hustle.
But it's not just the recreational avenues that make Etobicoke stand out. The area boasts a wide range of schools, shops, cafes, restaurants and a wide array of entertainment options. With excellent connectivity to Toronto's heart and neighbouring cities, residents enjoy unmatched convenience. Major highways and transit opportunities ensure the broader city's attractions are always within reach.
South Etobicoke, with its mix of cultural, recreational, and urban offerings, stands as a beacon for those seeking a sophisticated yet vibrant lifestyle. Dive into Etobicoke – where the essence of modern urban living meets community warmth.
Westshore at Long Branch Proximities
Explore the lakefront promenade/marina complete with peaceful waterfront trails and beautifully landscaped parks.
Enjoy restaurants such as Woody's Burgers, Loop Creamery, Cakestar, and Pulcinella Ristorante.
A quick commute via TTC or GO to downtown Toronto.
Quick drive to big box stores like Ikea, Costco, and No Frills.
Project Summary
Development Team: Minto
Location: Lake Shore Blvd. W., Etobicoke, Ontario
Proposed Suite Sizes: 2-storey and 3-storey townhomes