Coming Soon to Toronto
A Preconstruction Project by Graywood Developments
The Goode Condo at 33 Parliament is a 32-storey mixed-use condominium, designed by Architects—Alliance for Graywood Developments, on the southeast corner of Mill and Parliament Street in Toronto's Distillery District. Goode Condo boasts amazing views of different parts of the city, overlooking Old Toronto and its beautiful Victorian architecture on the North. To the east, the Don Valley, and South, residents can enjoy the tranquil sights of Lake Ontario and to the West, breathtaking views of the CN Tower and the downtown Toronto skyline.
Living the Goode Life
This development offers an unbeatable extended deposit structure with 5% in 2021, 5% in 2022, 5% in 2023 and 5% on Occupancy.
Project Summary
32 Storeys
540 units
Condo Suite Types: Studio, 1B, 1B+D, 2B, 2B+D, 3B,3B+D
20,000+ square feet of Indoor and Outdoor Amenity Space
93 Walk Score
100 Bike Score
100 Transit Score
Address: 33 Parliament St, Toronto, Ontario, M5A 2Y2
Category: Condo, Retail
Occupancy: Spring 2025
Status: Pre-Construction
Number of Buildings: 1
Height 345 ft / 105.00 m
Developer: Graywood Developments
Architect: Architects—Alliance
Landscape Architect: NAK Design Strategies
Easy Commutes: An Ideal Location
With a perfect Transit Score, the TTC buses and streetcars stop minutes away. Residents can get downtown in less than 25 minutes on transit. The Gardiner Expressway and the Don Valley Parkway are also a short drive away, allowing for a commute of just 5 minutes to the downtown core. This area is also equipped with excellent bike lanes, boasting a perfect Bike Score and allowing for cyclists to get downtown in less than 10 minutes.
The Future Looks Goode
The Distillery District is a hub of culture and creativity and is one of Canada's most sought-after destinations for art, entertainment and fine dining. The Goode Condo is steps away from the Distillery District and tons of local favourites. With a walk score of 93, a transit score of 100 and a bike score of 100, enjoy access to the following attractions:
Walk to the new future Corktown TTC Station in 7 minutes!
Walk to George Brown campus in under 10 minutes! Or Bike in 4!
Walk to the Distillery in 0 minutes
Walk to Corktown commons 18-acre park in 12 minutes
Walk to St. Lawrence Market in 10 minutes
Walk to a dog park about 4 minutes away
Walk to East Harbour in only 17 minutes! (with 50,000 jobs coming)
Walk to the all-new Parliament slip – in 1 minute OR Drive/Bike / TTC anywhere in minutes
As one of the final parcels of land to be developed in the historic Distillery Direct, the Goode Condo is a once-in-a-lifetime opportunity to own a part of history with inspiring finishes and curated amenities.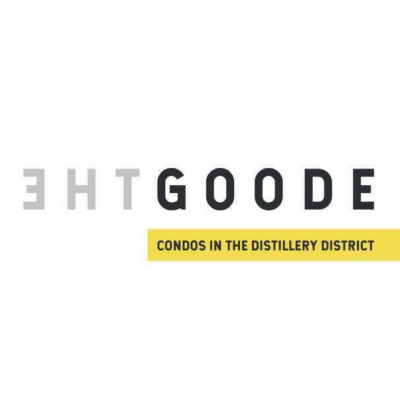 Project Summary
Development Team: Graywood Developments
Location: 33 Parliament St, Toronto, ON, M5A 2Y2