The Essery Condos
It's never a dull moment at The Essery
Coming Soon to King West
The Essery Condos by Aspen Ridge Homes
---
109 Niagara St, Toronto, ON M5V 1C3

Welcome to Essery Condos. This visionary redevelopment is coming to revitalize and restore this historic downtown site. This unique boutique condo will rise 14 storeys and contain mixed condo units. There are one-bedroom, two-bedroom and three-bedroom layout options.
The Essery Condos will provide an unparalleled refined condo living experience for its future residents. Redeveloping a heritage site in the heart of Toronto, one can expect to find eye-catching facades and timeless designs. This condominium will be replacing what was long known as "The Coffin Factory." CORE Architects and Bernard Watt Architect will design the condo's architecture.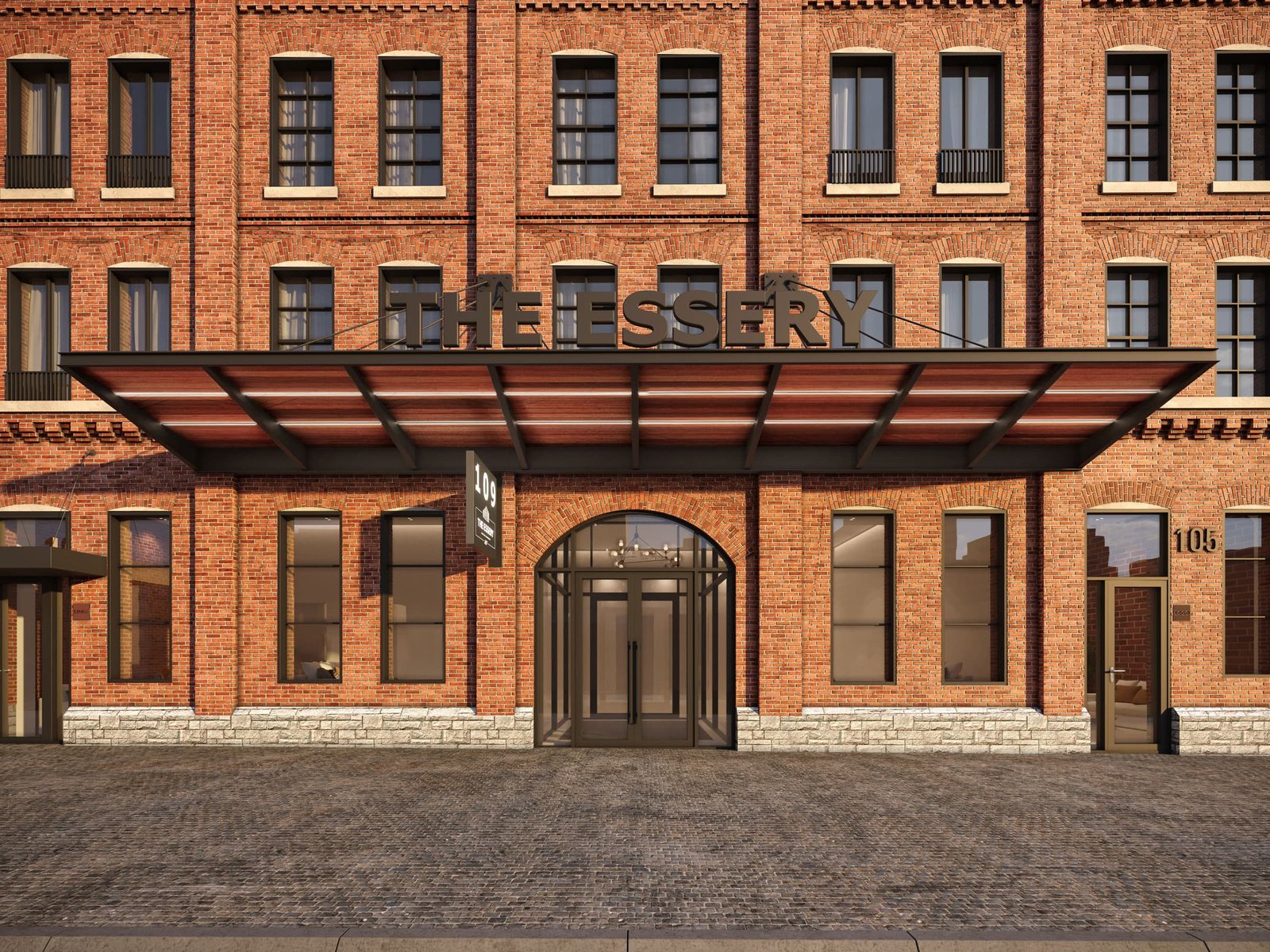 The Essery Amenities

Locals and future residents will benefit from the retail spaces found at ground level. Residents will exclusively benefit from the amenities located throughout the buildings. This condominium will provide top-tier facilities and areas that residents and visitors can enjoy, including both indoor and outdoor amenities. Once can expect to find a welcoming lobby with convenient concierge service and spaces for lounging on the ground floor.
We can also anticipate fitness facilities, entertainment rooms, and a party room for residents to make use of. Outdoor amenities can include outdoor terraces befitted with barbeque and patio seating, perfect for enjoying the fresh air.
Similar to Aspen Ridge's adjacent condo project, we can expect to find suites outfitted with stunning interiors and open-concept layouts. Units can include European-style kitchens with modern fixtures and contemporary bathrooms with chrome accessories and engineered flooring throughout.
Investors and buyers can also expect to find several work-from-home units to keep up with post-pandemic employment trends. This condo will be a dynamic new residence built to breathe life into this outdated heritage site.
Living In Niagara

The Essery Condos will be located in the Niagara neighbourhood; one of Toronto's hottest and trendiest communities filled with culture and history. This area is transforming into a highly desired place to live, work and play due to its incredible walkscore and nearby world-class amenities.
Scoring a 95/100 walk score, residents can get to everything they need without using a car or transit. Already just a short walk from some of the city's hottest bars and restaurants, two new parks, a streamlined transit route, an open-air market and an improved cyclist and pedestrian network.
More specifically, this condo will sit near both the Entertainment and Fashion Districts, two of the most vibrant downtown Toronto areas. Within walking distance, one can find The Roger's Centre, The Royal Alexander Theatre, Roy Thompson Hall, Art Gallery of Ontario, and The Bell Lightbox, all steps away from this beautiful location.
Not to mention, this condo will be within a 10-minute drive to the University of Toronto-St. George Campus, where students can easily access class. This makes for an excellent investment for an income property and an excellent location for off-campus student residents.
Travel from this condominium is easy and efficient thanks to various TTC transit routes, nearby subway stations and access to arterial roadways. Bathurst and King Street are just moments away, where residents can just walk and hop on a streetcar connecting with the Exhibition GO. Toronto's Billy Bishop Airport is within walking distance.
This new condo is set to be a prime residence for living and investing. Its proximity to nearby schools, highways, and transit makes it highly convenient, plus it sits right in the heart of the city, where local amenities are aplenty.
The Essery Condo Developer

Aspen Ridge Homes is a Vaughan-based real estate developer with over 25 years of experience building premium homes. They thrive on producing exceptional customer service and continuing to exceed expectations with their community engagement programs and core family values.
Project Summary
Development Team: Aspen Ridge Homes
Location: 109 Niagara St, Toronto, ON
Proposed Suite Sizes: Storeys: 14