Q Condos
Live Life on Q, at the Creative Corner of 20 Queen and Goudies Lane
Coming Soon to Kitchener, ON
Q Condos by Momentum Developments
---
20 Queen Street North, Kitchener, ON, Canada

Introducing Q Condos on Queen. A gorgeous new addition coming soon to Downtown Kitchener. Live a life of creativity on Q!  Rising 34-storeys above the original 1917 Beaux-Arts inspired building at 20 Queen, Q Condos is modern and slim in its design, located in the midst of the evolving Arts District.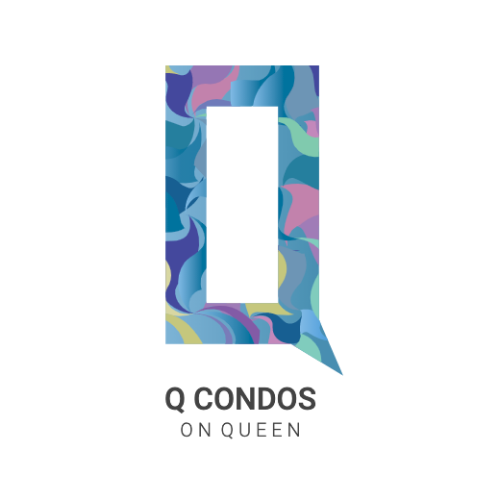 The Q Condos Features
The Condos will provide residents an Artsy living experience, surrounded by a fantastic range of restaurants, boutiques and entertainment venues. The vibe will be electric, with artists showcasing their work, and musicians strumming away. Amongst this, one can get wrapped up in the food, architecture and history.
Q Condos on Queen is being developed by Momentum Developments, who are highly reputable and whose focus is in contributing to the revitalization of Uptown Waterloo and Downtown Kitchener.
Residents will also be just minutes from Highway 8, the Kitchener Train Station, ION LRT and GRT Transit Stops, CF Fairview Park Mall, the region's Top Post-Secondary Schools, The University of Waterloo, and so much more.
Living In Kitchener-Waterloo

Found in the heart of Downtown Kitchener, residents at Q Condos will have a fantastic assortment of restaurants, boutiques, services, entertainment venues on their doorstep.
Kitchener-Waterloo has earned the reputation of being Canada's fastest growing tech talent market. It offers a lower cost of living than Toronto, thereby attracting young talent. It has increased its talent pool by nearly 66% in the last five years, creating over 8,000 tech jobs. The growth rate of tech jobs makes it the second fastest in NORTH AMERICA, even overtaking Silicon Valley. Google, Microsoft, Shopify, Blackberry, Desire2Learn, Communitech all call Kitchener home.
Kitchener will have a stop on the newly announced $11 Billion Dollar High Speed Train System (up to 250 km/hr). Kitchener residents can then get to Pearson Airport in 32 minutes and Downtown Toronto in just 48 minutes. Q Condos on Queen will be located just a 3 minute drive, or 12 minute walk, from the proposed stop. Residents can therefore get to Downtown Toronto in less than an hour.
Make your morning commute easy, being just 7 minutes from Highway 8 which seamlessly connects you to Highway 401 in a matter of minutes. Residents will also be a 3 minute drive (or 12 minute walk) from the Kitchener Train Station and only steps away from multiple ION LRT & GRT Bus Stops, resulting in quick and convenient travel city wide.
Located just a convenient 9 minutes from CF Fairview Park Mall, which features 120 fashion retailers, stores and services for your enjoyment. Surrounding CF Fairview Park Mall, residents will also find a fantastic assortment of Big Box Stores, Restaurants, amongst other popular retailers such as: Best Buy, Shoppers Drug Mart, Michaels, Food Basics, PetSmart, Moxie's Bar & Grill, Canadian Tire, Walmart and the list goes on!
Q Condos on Queen will be 9 minutes from the University of Waterloo, 7 minutes from Wilfrid Laurier University, and 14 minutes from Conestoga College!
The Q Condos Amenities

An Arts and Culture District hub
Modern and slim design
Minutes from Highway 8, the Kitchener Train Station, ION LRT and GRT Transit Stops
Minutes away from the region's Top Post-Secondary Schools
9 minutes from CF Fairview Park Mall
9 minutes from University of Waterloo
7 minutes from Wilfrid Laurier University
3 minute drive (or 12 minute walk) from the Kitchener Train Station
Steps from multiple ION LRT & GRT Bus Stops
Kitchener will have a stop on the new High Speed Train System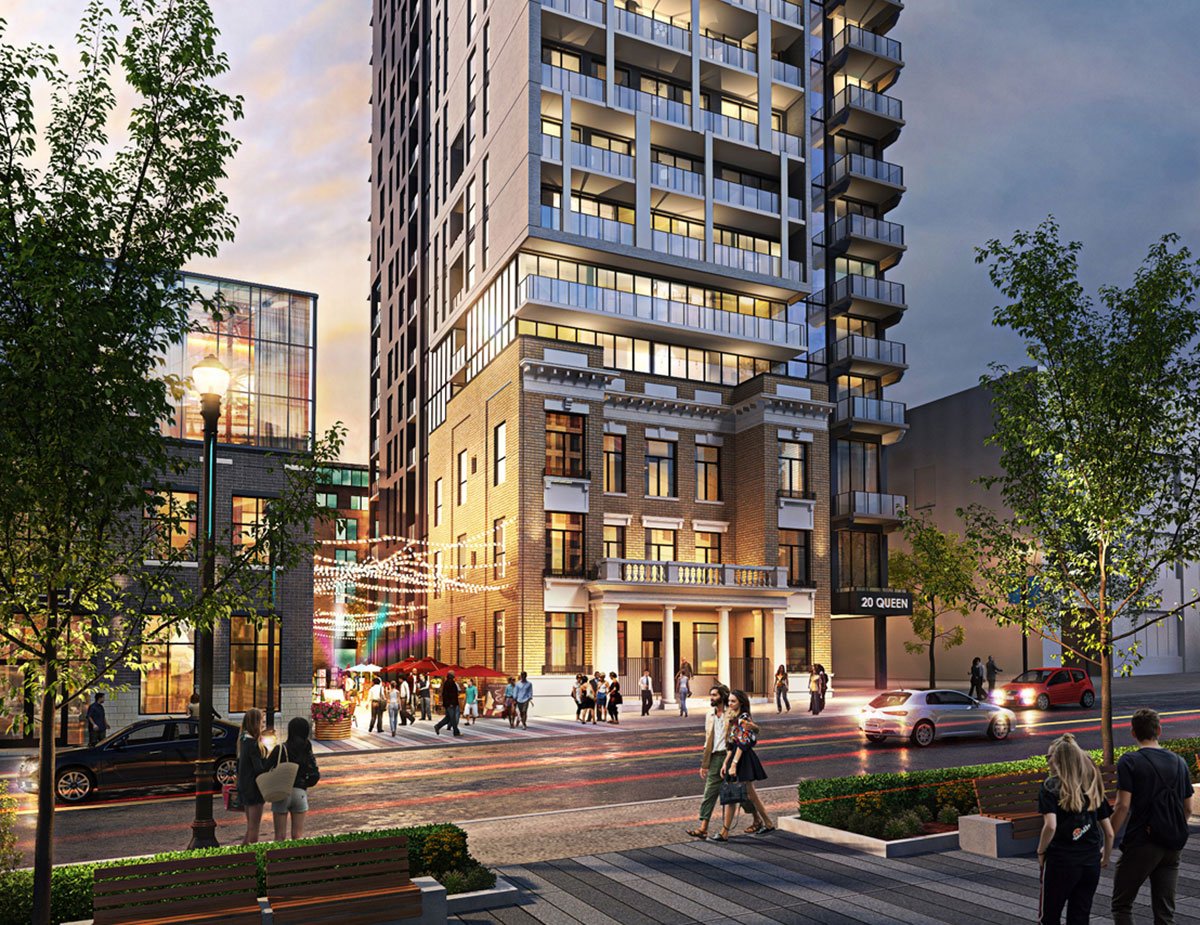 Project Summary
Development Team: Momentum Developments
Location: 20 Queen Street North, Kitchener, ON, Canada
Proposed Suite Sizes: One Bedroom – Three Bedroom Suites
Architecture Team: ABA Architects