Coming Soon To Pickering
Pickering City Centre by CentreCourt Developments
---
Liverpool Rd. and Kingston Rd., Pickering, Ontario

Introducing a new development coming to the Pickering, Ontario –Pickering City Centre. This groundbreaking, 55-acre master-planned community is changing the cityscape with a composition of 10 mixed-use residential towers, all primed to offer affordable condos in the coveted Greater Toronto Area (GTA).
Situated strategically in the heart of downtown Pickering, Pickering City Centre provides seamless integration with the city's vibrant core and its neighbouring metropolises of Toronto, Markham, and the vast Rouge Urban National Park. Plus, it's just a short distance from the serene shores of Lake Ontario. As a rapidly evolving city, Pickering is turning into a modern downtown hub offering a wealth of growth opportunities.  Here, the allure of nature intertwines with urban conveniences.
For investors and potential homeowners, Pickering City Centre unveils an irresistible blend of lifestyle, location, and luxury. One can experience the captivating charm of Pickering  and become a part of this transformative community, poised to redefine their perception of modern living.
Pickering City Centre Features

Pickering City Centre spans across 55-acres in Pickering, offering unparalleled connectivity to its surroundings. Thanks to its direct connection to the GO Train, commuting across the city and to the surrounding area becomes effortless. This prime location will house a collection of 10 mixed-use residential towers with a sprawling 700,000+ sq. ft. shopping centre, providing residents with an array of retail options right at their doorstep.
Furthermore, the Pickering City Centre also houses a state-of-the-art 130,000 sq. ft. office building and a cutting-edge 20,000+ sq. ft fitness centre for health enthusiasts. The nearby parks allow residents to enjoy the splendour of nature without compromising urban conveniences.
Its proximity to City Hall, various parks, and the Pickering waterfront means there is always something to keep one engaged. Access to the waterfront offers the opportunity for tranquil evening strolls and breathtaking views of Lake Ontario.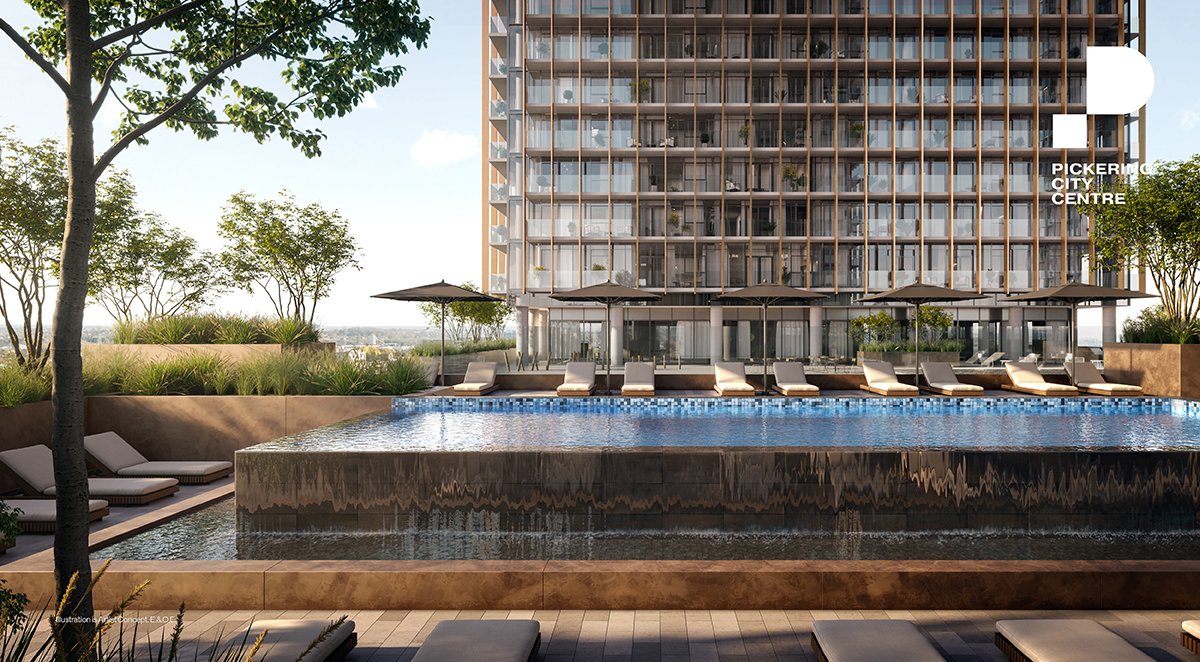 Living In Pickering

Nestled in the heart of the Greater Toronto Area, Pickering offers the best of both worlds – the hustle and bustle of city living with a touch of serenity. It borders the Rouge National Urban Park, offering a plethora of picturesque trails and walking paths. Plus, with Pickerings' direct access to Lake Ontario, residents can enjoy leisurely strolls along the lakeside.
A myriad of shopping and dining options are conveniently located in the vicinity of the Pickering City Centre, including the Pickering Town Centre. Situated near Kingston Rd, residents can easily access Hwy 401 and the Pickering GO station, turning commuting into a pleasurable experience.
One can discover the future of urban living at Pickering City Centre, where lifestyle, comfort, and convenience merge seamlessly.
Pickering City Centre Proximities
Conveniently located near the Pickering GO Station
Proximity to the Pickering Town Centre Mall
Just a short drive away from Rouge National Urban Park
Close proximity to Lake Ontario
Easy access to Highway 401
Project Summary
Development Team: CentreCourt
Location: 43.835694,-79.0929704