Coming Soon To Markland Wood
434o Bloor West by Hazelview Investments
---
4340 Bloor St W, Toronto, Ontario M9C 2A6

Introducing 4340 Bloor West, a proposed mixed-use rental building designed by architectural firm gh3 and developed by Hazelview Investments, coming soon to the growing community of Etobicoke's Markland Wood neighbourhood.
With 308 units being added to the existing 86-unit building, the project will likely provide much-needed housing options for the area's residents, significantly contributing to the overall growth and development of the neighbourhood.
4340 Bloor West Features

The new 4340 Bloor West development is a two-building project situated on a 10,060 m² site in Etobicoke's Markland Wood neighbourhood. The project, proposed by Hazelview Investments Inc and designed by gh3, aims to maximize the site's potential by adding a 16-storey tower on the west frontage and a four-storey building on the east-frontage.
The west building, with a ground floor area of approximately 17,435 m², will be a C-shaped structure rising 56.5 m high. The building will have two six-storey base elements extending from the north and south, creating an internal courtyard and walk-up entrances for residential units at grade. It will comprise of 243 units, including studios, one-bedrooms, two-bedrooms, and three-bedrooms.
The east building, with a ground floor area of approximately 4,588 m², will be a four-storey structure designed to transition downward in height from the proposed 16-storey west building and the existing 15-storey central building. The building's footprint curves around on the north and south corners to create two small wings that face back into the site. It will contain 65 units, with walk-up units on the lower floors intended to create an animated and neighbourhood-friendly streetscape at grade.
Both buildings will be composed of a combination of grey stucco panel, dark perforated metal, and glass panel. The development will provide a total of 308 units, with a variety of sizes ranging from studios to three-bedrooms. In total, the project will span a ground floor area of approximately 22,000 m².
Indoor and outdoor amenity spaces are provided across both buildings at grade and on the seventh floor of the proposed west building, totaling 1,448 m². A full landscape plan has been prepared by MEP Design Landscape Architects, designed to complement the relationship between the site's open space and its build form.
A two-level underground garage containing spaces for 418 cars and 210 bicycles will be part of the development. 86 of the parking spaces will be allocated for residents in the existing building who are currently served by a surface parking lot on the area of the future west building.
Living In Etobicoke's Markland Wood

Living in Markland Wood, particularly at 4340 Bloor West, is a peaceful yet vibrant experience. The area is well-known for its beautifully-maintained suburban properties, mature trees, and a strong sense of neighbourhood pride. As a resident, one can enjoy an array of community events, including the annual Easter Egg Hunt and Christmas Caravan Food Drive. The community also has a strong homeowner association, ensuring that the neighbourhood is well taken care of.
Families are drawn to Markland Wood due to its four local schools, making it a great place to raise children. The neighbourhood boasts friendly, outgoing, and active neighbours who are invested in the community.
When it comes to shopping, there are two primary options. The Markland Wood Plaza has a major grocery store, a variety of small shops, and professional services such as pharmacies, hair salons, and dry cleaning. Burnhamthorpe Mall is another retail option that has small stores, a food market, and dental offices. Residents can also take a short drive to Cloverdale Mall or Sherway Gardens for more shopping options.
For recreation, there are various green spaces in Markland Wood, including Bloordale Park, Millwood Park, and the Markland Wood Golf Club, which has an 18-hole course and a fantastic dining area. The Nielson Park Creative Centre is another popular spot for those interested in art and offers after-school classes, day camps, and more.
Transportation is also convenient, with buses running frequently along Bloor Street, Mill Road, and Markland Drive, connecting with the Kipling subway and GO stations. Highways 401, 427, and the Gardner Expressway are also easily accessible for those with a car.
Overall, living in Markland Wood offers a beautiful suburban community with a strong sense of neighbourhood pride, convenient amenities, and recreational opportunities while still being close to Toronto's city core.
4340 Bloor West Proximities
1-minute walk to Markland Woods shopping centre
Just across the road from Millwood Junior School
4-minute drive to Burnhamthorpe Mall
5-minute drive to Dundas 427 Marketplace
20-minute drive to Toronto Pearson International
7-minute drive to Dixie GO Station Rail and Kipling GO Station Rail
10-minute drive to Long Branch GO Station Rail
A variety of fashion stores are within a short walking distance
Several restaurants are within a short walking distance
An abundance of shops, dining, and entertainment attractions
Within a short distance from natural spaces such as Bloordale Park, Millwood Park, and the Markland Wood Golf Club, which has an 18-hole course and a fantastic dining area
Close to The Nielson Park Creative Centre for those interested in art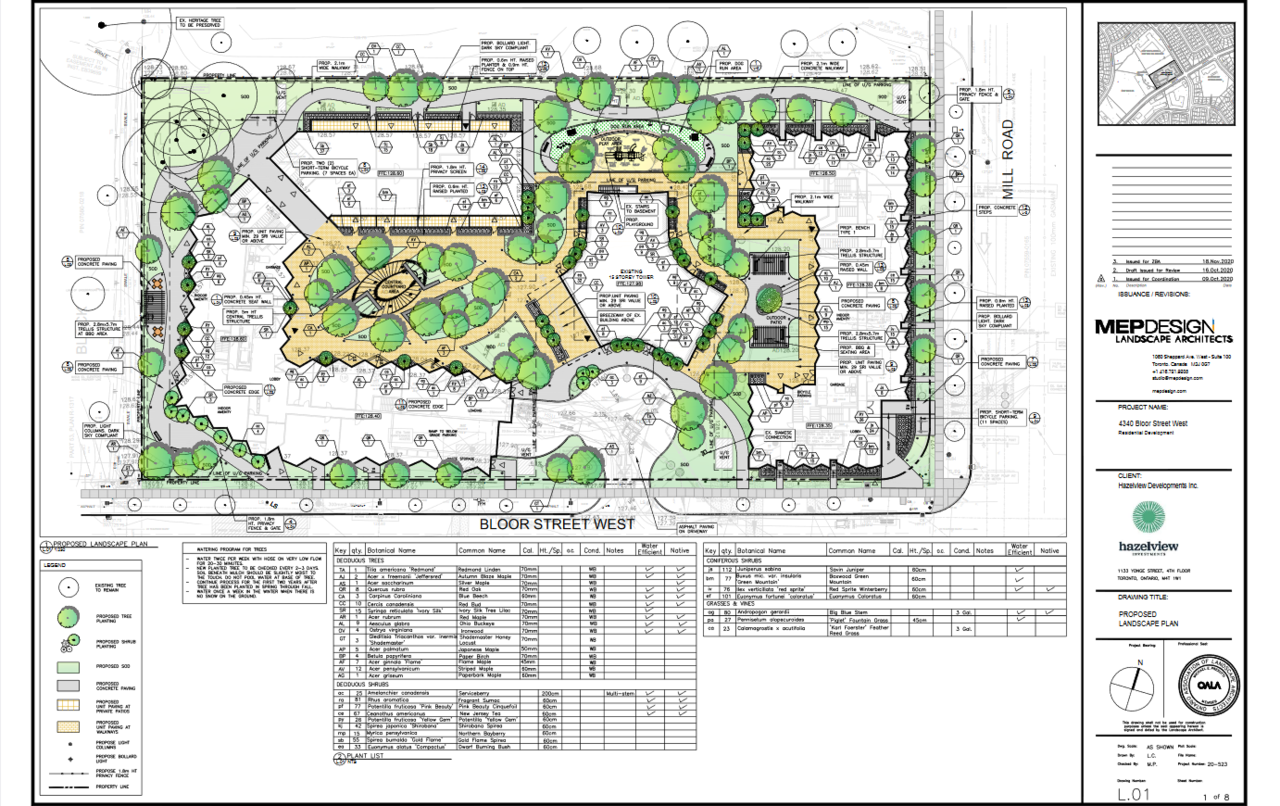 Project Summary
Development Team: Hazelview Investments
Location: 4340 Bloor St W, Toronto, Ontario
Proposed Suite Sizes: Buildings: 2 | Storeys: 13, 4 | Units: 182, 59
Architecture Team: gh3