Coming Soon to Deer Park
1366yongestreet by Bazis
---
1366 Yonge Street, Toronto

A proposal for a Rosario Varacalli-designed 41-storey, mixed-use development in the Deer Park neighbourhood of Toronto has been submitted by the developer Bazis.
The development, which plans to provide 489 units, will be located at 1366 Yonge Street. An existing 4-storey commercial building houses office space and a medical centre. The proposal declares that in its current use, the site is under-utilized, and pushes that the development will be a valuable contribution to effectively facilitating the growth of the surrounding area.
A prominent drawing point is that the TTC's Yonge Line 1 St Clair subway station is a short 250m walk away; therefore the proposed development is aligned with the Province's goals for intensification around Major Transit Station Areas.
The proposed design would see a 33-storey tower portion built above an 8-storey podium that steps back at the fifth storey, in an effort to scale the new building in a way that resembles the existing 4-storey building from a pedestrian perspective.
Precast concrete with a brick pattern, coloured reddish-brown, is one of the primary external finishes.
With 100m² reserved for retail at ground level, the rest of the 32,196m² of floor space would be residential, with some interesting stats when it comes to unit breakdown. Unlike the majority of new developments, which offer a large majority of single-bedroom units, the proposal seeks to offer a more family-oriented design, with 48% of the total 489 units containing 2-3 bedrooms.
4 elevators are proposed to serve the residential levels, a ratio of 1 elevator for 122.5 suites, which is a lot better than recent ratios in Toronto proposals.
The proposal provides 489 resident bicycle parking spaces and 11 for visitors, underground and on the ground level. This interesting direction reflects a commitment to the feasibility of active transportation (there are dedicated bike lanes on Yonge Street now, currently in the second year of a pilot project).
Transit-connected living is also in the pipeline, with measures taken to ensure that the intensification of Major Transit Station Areas contribute to a more correlative relationship between transit and new developments.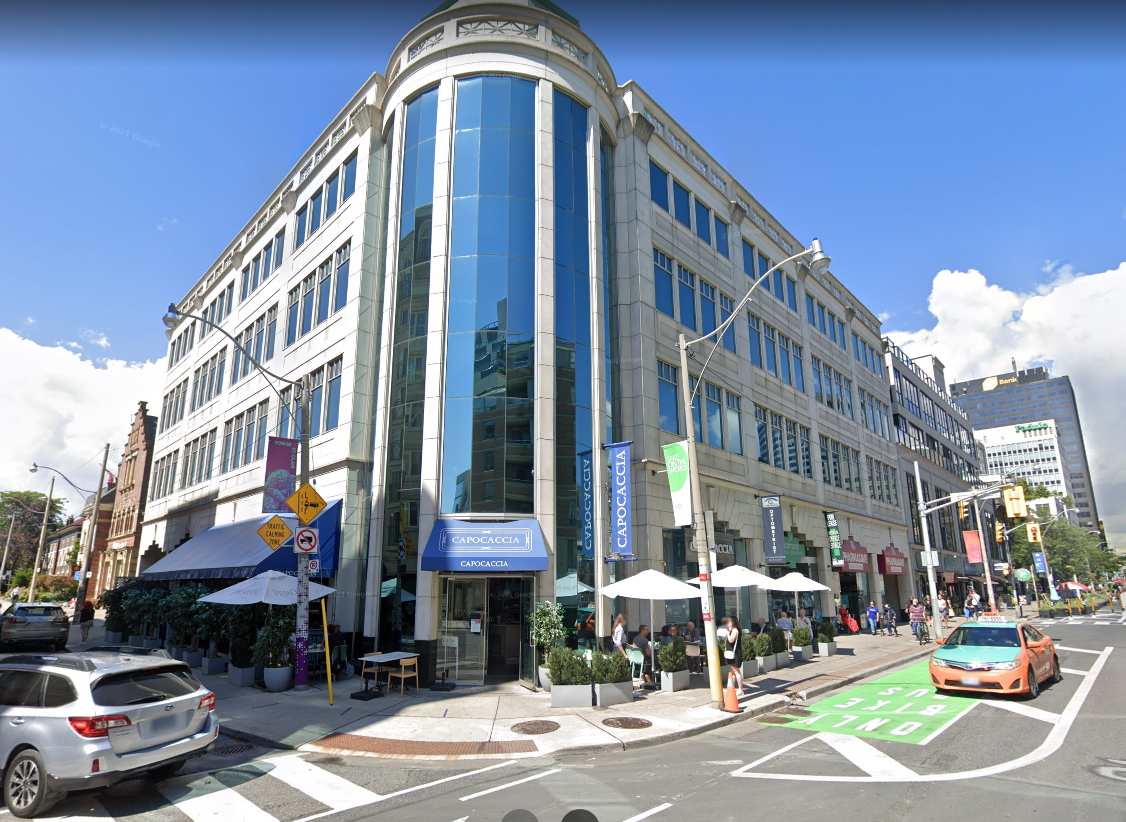 Project Summary
Development Team: Bazis
Location: 1366 Yonge Street, Toronto
Proposed Suite Sizes: Buildings: 1 | Storeys: 41 | Suites: 201